Farmbase
(formerly known as "RE/Farming_NAM")

Namibian farms are heavily dependent on a continuous power supply to ensure crop irrigation. In addition, intelligent irrigation systems can further increase productivity.
move is one of the initiators of the "Farmbase" project. By combining renewable energy, hydrogen, irrigation, wastewater treatment and the training of skilled workers in a modular approach, future-proof local jobs are created and the yield of the farms is increased.
Due to its small size and simultaneous scalability, the project achieves an immediate and measurable impact for the Namibian economy and local population.
And best of all, our modular approach can be transferred to other regions and even other use cases around the world.
We are already working on it!
The project is currently in the first project phase: the detailed concept phase.
During this phase, all modules are defined in detail to meet the requirements of Namibian farms.
The key is to generate renewable energy using solar and wind power. This alone enables an increase in fruit and vegetable production. Agri-PV can further increase land utilization. The renewable energy generated can be used directly to power an intelligent irrigation system or stored in batteries for later use when needed.
Surplus electrical energy is also converted into hydrogen by electrolysis, which can be stored in batteries as electricity over longer periods of time. The green hydrogen produced in this way can then either be converted back into electrical energy by feeding it into a fuel cell, or it can be sold or used in local hydrogen applications.
Innovative planting methods will also be evaluated for the Namibian market. The keywords here are smart greenhouses and vertical farming.
An additional part of the modular system is an innovative, intelligent irrigation system with drip irrigation. Wastewater is treated using MBBR technology and can thus be reused for irrigation.
When completed, newly developed digital education formats will ensure the training of local employees and prepare the Namibian population for the hydrogen society. All this will lead to attractive and sustainable jobs in new technologies in Namibia.
The first system will be installed in 2025 at the Albrechtshöhe Guest Farm, about 1.5 hours northwest of Windhoek. A second system will be installed on a government farm, a so-called "resettlement farm".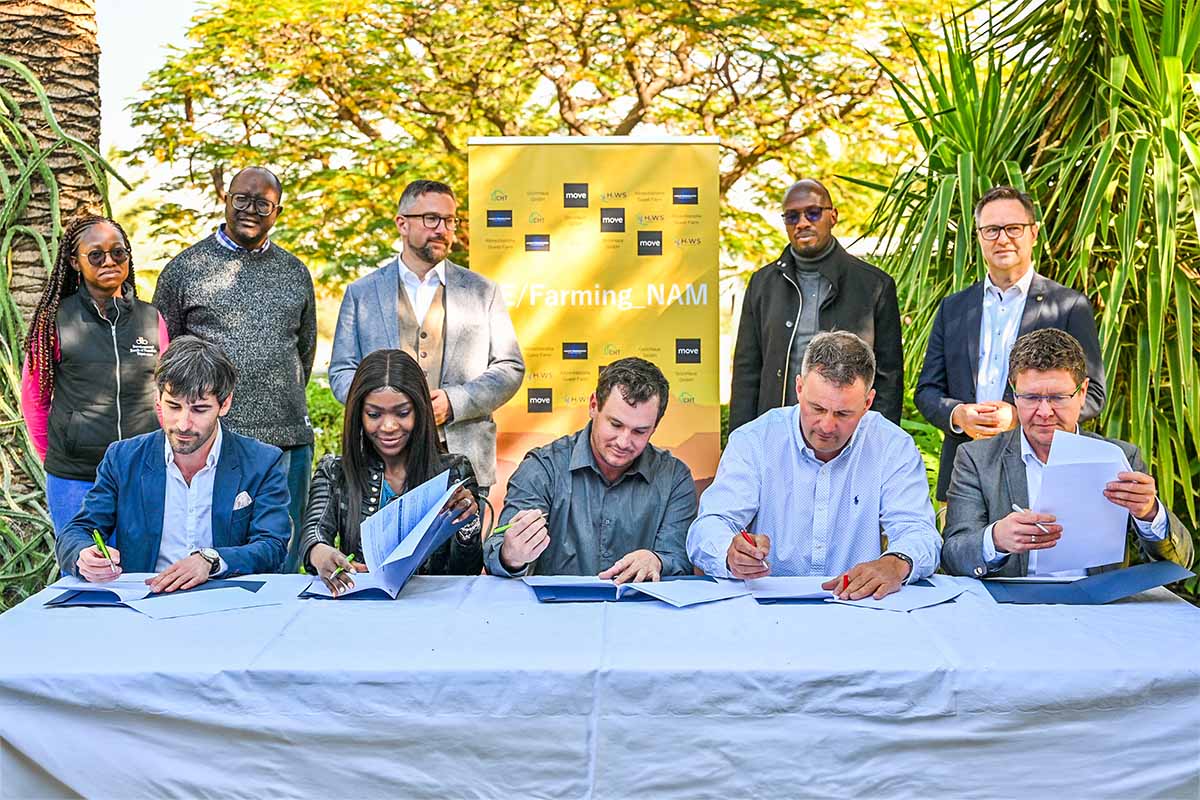 During a delegation trip of entrepreneurs and politicians from the Free State of Saxony (Germany), the Memorandum of Understanding for the project was signed by:
Ester Kalangula // H2WS Energy Namibia Pty Ltd.
Tom George // move technology GmbH
Rick Meisel // CHT – Chemnitzer Haustechnik GmbH & GrünHaus GmbH
Lars Bergmann // VIADUCT TECHNOLOGIES GmbH
Wanjo Meyer // Albrechthöhe Guest Farm
The signing ceremony was witnessed by:
Abraham Hangula // Ministry of Mines and Energy of Namibia
Alfred Sikopo // Ministry of Agriculture of Namibia
Martin Dulig // State Minister for Economics, Transportation and Labour of the Free State of Saxony
Mahevo Kadhepa // Development Bank of Namibia
Thomas Horn // Saxony Trade and Invest